The Cheapest Lead acid Battery Robot Lawn Mower TC-158N With Newest Smartphone WIFI App And Water-proofed Charger
If you want to buy the spare parts , such as virtual wire,pegs, blades:Pls click here:
App control Instructions Demo: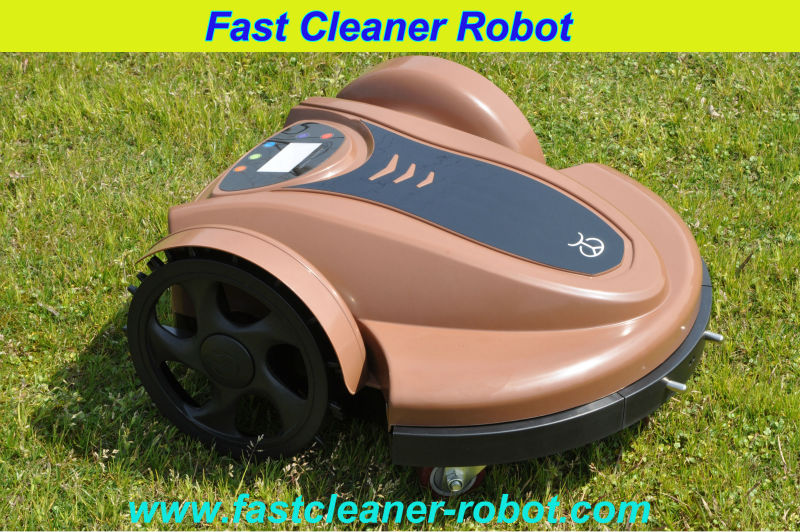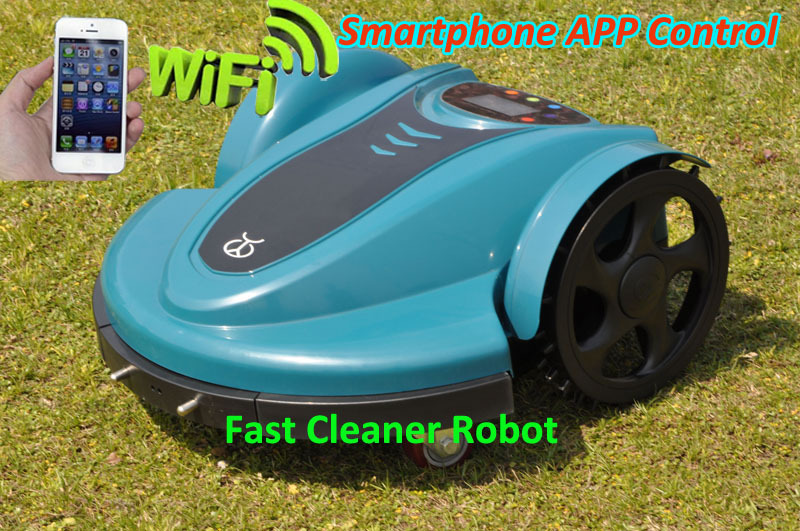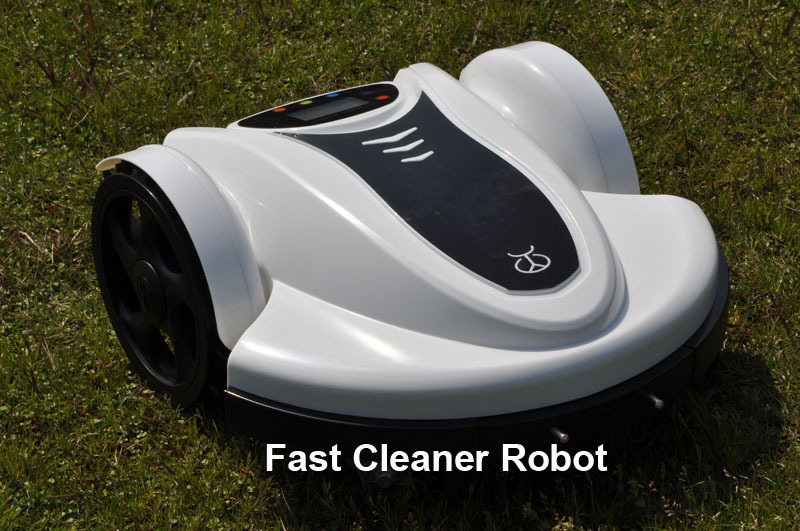 Robot Lawn Mower 158N is the update version for classic mower 158, on the basis of 158,with the more functions of password,Schedule,Language selection and subarea setting.
Technical Data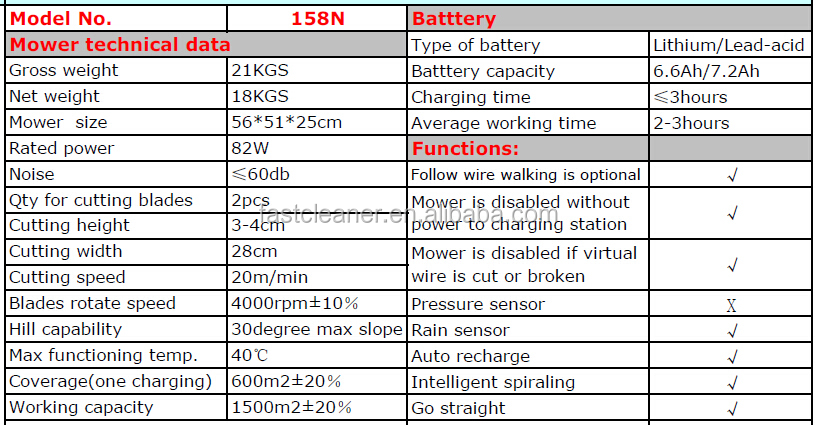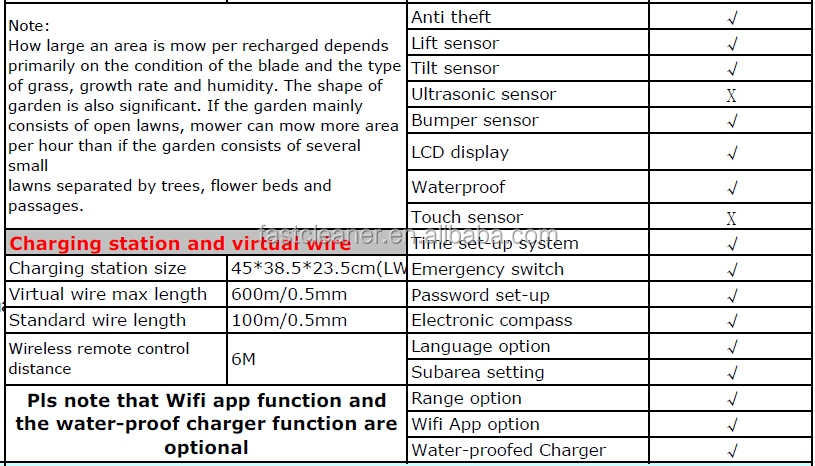 Newest arrival Robot Grass Cutter With NEWEST APP Controlled Wireless WIFI +Water-Proof Charger
Robot lawn mower 158N is our newest robots in 2016,and hot sell in 2016. It have more newest advanced function and pretty price. The biggest bright spot of this product is that it has a subarea setting. This function can sparate a big lawn into 3 small area to cutting, so it can save more time to cut a big lawn.
Two Cutting modes:
There are two cutting modes of the mower: go straight and go circle
In Auto mode, mower selects cutting mode intelligently.
In Manual mode, the mower will just go were you direct it.
It goes straight if the grass is sparse or it has be cut off, and it goes circle if the grass is dense or lond. (This is more high efficiency for mower to cutting lawn)
How to adjust the cutting height:
There are two cutting levels of this mower,3cm or 4cm.
The user has to change the blades to adjust the cutting height.
1.Stop the mower and take off the key
2.Loose the screws on the blade holder
3.Adjust the cutting height by change the two blades
4.Fix the blades to the holder with screws
Some function of TC-158N :
1.Lift sensor
There are lift sensors located on the front wheels. If the mower is lifted from ground, it will stops working within 1 second.
2.Tilt sensor
There are tilt sensor installed on the mower too,when the mower is tilted over 30 degrees in any direction,it stops working within 2 seconds.
3.Bump sensor
There are bump sensor equipped at the front of mower, they will activate when the mower strikes soild,fixed, object when that object is at least 6cm in vertical height from the supporing surface of the mower. when the bump sensor activated, the mower will stop movement in that direction and reveres itself away from the obstacle.
4.Rain sensor
There are two rain sensor located on the top cover.The mower will go back to the charging station automatically when it's raining.
5.Auto recharge system
when the mower senses a low battery situation,it will shut off the cutting motors and search for virtual wire. Once found it will follow the virtual wire to the charging station for recharge automatically.Once charging is complete, the mower will back up a few centimeters ready to again in stand by mode
6.Overload protect
Each of the cutting motors the two running motors are monitored continuously during operation for any situation that may cause these motors to over-load in the event this is detected,the mower stops operating.
7. Easy cutting height adjustments
Two levels of cutting blades, one levels is 3cm,another is 4cm.change blades to adjust the cutting height
8.Mowing schedule
Set up one week(From Monday to Sunday,Once for each day)Cutting schedule from the control panel
9.Subarea setting
This function can sparate a big lawn into 3 small area to cutting, so it can save more time to cut a big lawn.
Four steps to safety start the mower:
1. Connect charging station with power supply by charger.
2. Connect virtual wire to charging station and make sure it is in good connecting.
3.Turn on the power button and release the emergency switch.
4.Input password if selected and select mode.
WIFI APP MANUAL:
Shipping (Very Important)
Ususally,we will ship out the goods by FEDEX OR China Post Air Mail, but sometimes ,we may make shipment by DHL,TNT OR Aramex etc, according to the actual situation. So hope you can accept this .
Warranty and Terms
All our goods (unless otherwise specified) are assured to be brand new and carried with fully at least One year warranty.
During warranty Time, if any problem happens due to quality reason, please be cooperative to take photos or videos on the problem and send to us for verifying by email.
For confirmed product faulty on your approval, we can send you for replacement .
Feedback & Contact Us
If you have any questions, please feel free to email our service specialists. We will reply you ASAP. If no response within 24 Hours during working days, please check the spam in your mail box.
We greatly appreciate your POSITIVE feedback. Please do NOT leave negative or neutral feedback without asking for help.
Our aim is to provide Top Level Customer Service, normally so we will try our best to solve the problem for our clients.