New 3.7V 1400mAh F24 Battery
For DoCoMo Arrows X LTE F-05D / REGZA PHONE T-01D / ARROWS F-07D Japanese
Description :
Rechargeable Li-ion Battery:
* 100% Brand New High Quality Li-ion Battery.
* Uses the latest Lithium Ion battery technology.
* Integrated microchip prevents overcharging and lengthens battery life.
* The best replacement spare battery for your phone.
* This Battery could also be charged in the phone directly thru the cell phone charger..
* Voltage: 3.7V
* Battery Capacity :1400mAh .
* You do not need a special back cover for this battery.
Compatible with :
For DoCoMo Arrows X LTE F-05D / REGZA PHONE T-01D / ARROWS F-07D Japanese .
Package includes:
1400mAh Li-ion F24 Battery x 100pcs/lot.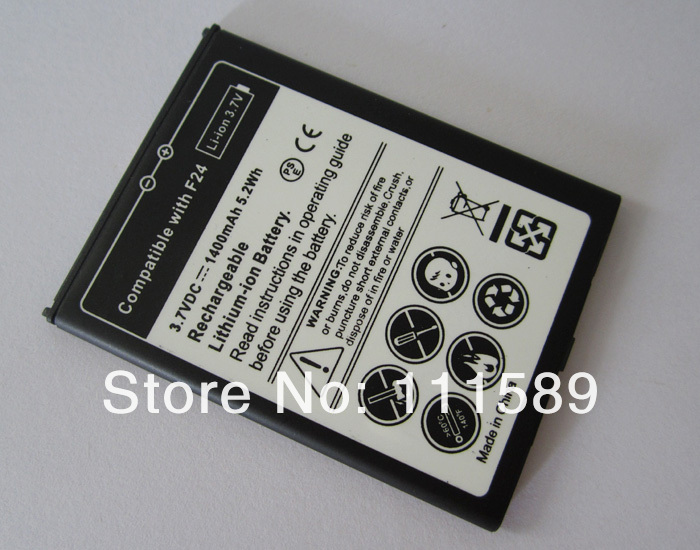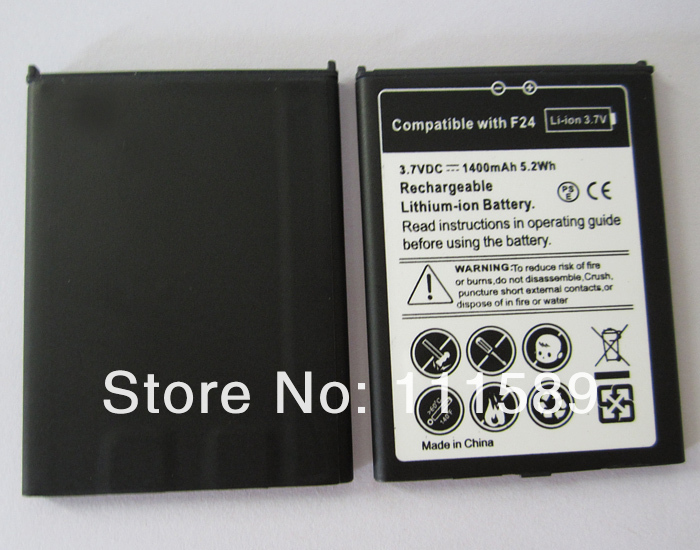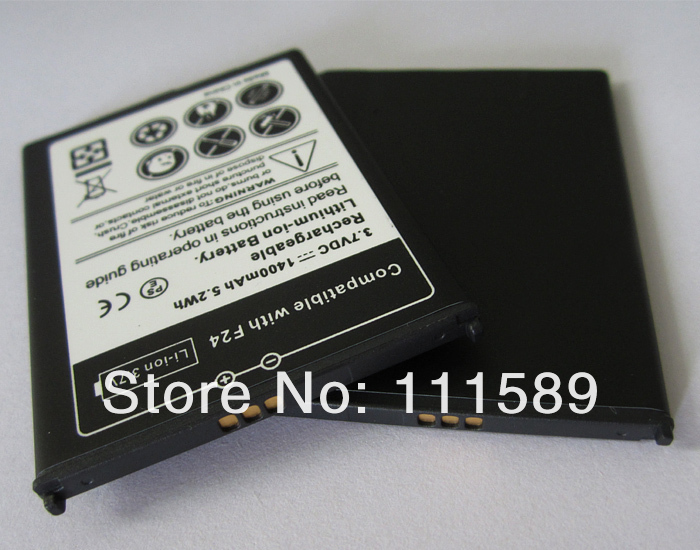 * 50 pcs/lot Travel Desktop USB AC Charger for Samsung Galaxy Note II 2 N7100 Mobile phone
US$ 134.00/lot
50 pieces / lot
* 10pcs / lot Promotion 2450mAh High Quality Golden Li-ion Battery for Samsung Galaxy S 2 II i9100 i 9100G Mobile Phone Wholesale
US$ 59.00/lot
10 pieces / lot
* New promotion 2 x 3030mAh Gold high capacity Battery+travel usb Charger for Samsung GALAXY Note N7000 i9220,Note LTE i717 AT&T
US$ 25.93/piece
* New hot sale 2 x 2300mAh high capacity Li-ion Battery+Dock USB Charger for Samsung Galaxy S III 3 i9300 Cell Phone
US$ 15.98/piece
* 2012 hot sale promotion For Samsung Galaxy S3 S 3 III i9300 4500mAh Extended Battery w/ Back Cover Case (Light blue Cover)
US$ 128.00/lot
20 pieces / lot
* New 3.7V 4.51Whr High Quality Replacement Battery For Apple iphone 3GS 30pcs/lot DHL fast Shipping
US$ 123.00/lot
30 pieces / lot
* 50pcs/lot newest Sport ArmBand PU leather Case for apple iphone 5 5g DHL Fast Shipping
US$ 178.00/lot
50 pieces / lot
* 5pcs/lot Gold 2680mAh replacement Battery for iPhone 4S / 4GS High Quality Free Shipping.
US$ 60.00/lot
5 pieces / lot